The cardboard does not stop being paper. Therefore when it gets wet, it spoils. Making waterproof cardboard can be a great solution, given the great versatility and usefulness of the boxes of this material, to prevent the contents from spoiling if a lot of waterfalls on them.
How to waterproof cardboard?
The most popular packaging, whether to transport or store products at home or in a business, is a cardboard box. Something fundamental in the boxes is that they can maintain their shape and structure, especially in those cases where they contain a high weight. Therefore, it is necessary to protect them from water and moisture since they can damage them. You can do painting over dark colors cardboard before making it waterproof.
7 ways to make waterproof cardboard
Continued exposure to a water source will eventually deform the packaging and possibly its interior. Thanks to the constant research, today, you will be able to know different ways so that a simple cardboard box can become a waterproof box with simple tricks.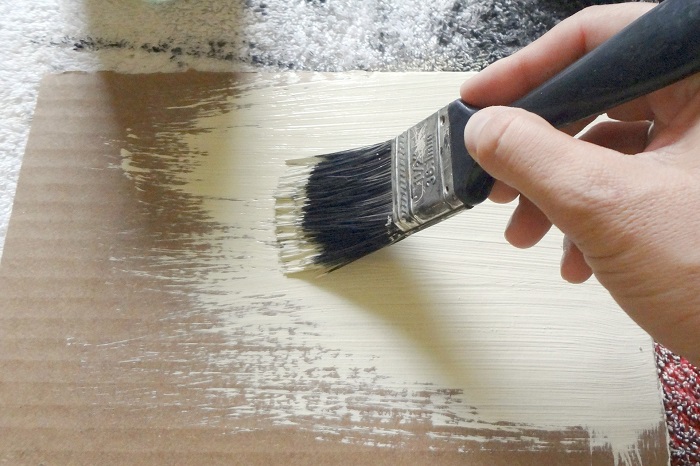 Wax
This type of wax waterproofing is very effective. You can make it with each of the pieces of cardboard you need. For example, if you use corrugated cardboard, it is very interesting to do it in each layer.
Cover the piece of cardboard with hot wax and wait until it has dried completely. Form the layer evenly so that everything is well covered and, in this way, even if the cardboard gets wet, it will not be damaged.
Plastic
One of the most popular, simple measures that come to mind when you think of waterproofing cardboard is to cover it with plastic.
You must take into account the type of exposure to water that the piece is going to have and, in this way, choose the type of plastic that best suits that situation.
Rubber paint
Before using rubber paint, make sure the box is completely clean of dust or dirt. Pass a dry paper towel to check.
With a brush, take a small amount of liquid rubber, because you will not need more to cover a considerable size. Apply it with the brush throughout the cardboard box without forgetting the base or the interior walls. Use as much as you need.
Let the box dry for at least half an hour. If you need to speed up the drying process, you can place a fan. Once ready, turn the box over and repeat the operation from the bottom side. Again let it dry for 20-30 minutes. In this way, your box will be completely waterproofed.
Vinilic glue
Vinyl glue is an excellent resource to waterproof cardboard because once it is dry, it is waterproof. Sometimes it is necessary to give a double layer of glue so that its effectiveness fits your needs. Check it to expose the box to water.
Laminated film
This is a process that is done by membership. Normally only one side of the cardboard is corrugated laminated. Therefore, it is not possible to make complete protection of it in humid environments or water. The laminated film is low-density polyethylene.
Steam corrosion inhibitors are sprayed on the cardboard or paper and that favors the protection against corrosion or water of the metallic elements that the cardboard boxes may contain inside.
Shellac
Mixing shellac with water and borax forms a good waterproofing for both paper and cardboard. Mix the ingredients at a temperature below the boiling point, just as you would to poach a food, add them and start stirring until you get a completely uniform solution.
Strain the product through a fine strainer, a muslin or a tin. This is done to avoid impurities since it has to be practically transparent. Apply the solution and let it dry on a wire rack. Place newspaper paper underneath to avoid damaging the surface in case drops fall.
Curtain coating (spraying)
A spray varnish can be used. This varnish is acrylic and slightly satin coating. Get extra protection, repels water and dirt providing a silky appearance. If the packaging has some graphic, it is not altered, since its main characteristic is to form a transparent, colorless and flexible film.
This varnish adheres, is perfectly fixed and allows writing on it with permanent markers, which is ideal for performing, for example, a fun outdoor activity where it is necessary to write down.
The waterproof cardboard of corrugated cardboard boxes is handy for storage in places that are more susceptible to moisture, such as basements or attics. Waterproof your exterior and interior to protect the content.