Keeping the bathroom floor clean and dry is an important safety measure. To avoid slipping, ensure that rugs, bath mats and towels are properly hung and not left loose on the floor. Make sure that mats kept on the bathtub base or in the shower are anti-slip. Also, make sure that the bathroom is well-lit and warm. In addition, wear non-slip shoes whenever you use the bathroom. In addition, keep your bathroom floor clear of obstacles.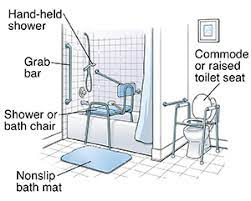 Slip-resistant mats or adhesive strips can help prevent slipping in wet environments. The adhesive strips may be temporary, but they wear off over time. The bathroom should be a place of solace and safety, and these solutions are easy to install and inexpensive. Your elderly loved ones will thank you! Slips and falls are one of the leading causes of hospital admissions for older people and the damp conditions of a bathroom make this one of the most common places to experience a slip or fall. When you require Bathing Aids, consider https://www.abilitysuperstore.com/collections/bathing-aids

Invest in high-quality mats for your bathroom. Look for low-profile tubs or consider having just a shower unit, and make sure you get non-slip pads for them. Lighting in your bathroom can also prevent falls. Professionals recommend a layered approach to lighting. It should include overhead lighting, accent lighting, and nightlights. This way, you'll know exactly what kind of light you need. And if your bathroom is too dark at night, adding nightlights is a must.