When it comes to enlisting the services of a Luxury Wedding Photographer Bournemouth they can give you so much more than some beautiful images of your wedding day. It can be hard to decide on what images you want taken and you should use their knowledge and expertise as to which moments of your wedding you wish to capture.
There are many traditional pictures that are taken including the bride and groom together after the wedding ceremony, the bride with her bridesmaids, the groom with the best man and ushers, the family photos for both parties and the larger guest photograph. More and more people are looking for more unusual pictures of their day to be taken and some even wishing to create an hour by hour scrapbook of the day.
These photos may include capturing the moment of the couple's engagement and then following these on with pictures from the stag and hen parties. Once the wedding arrives the photographs can begin with the bride and groom getting ready for their big day, with the bride having her hair and make-up down. It may also include the guests arriving at the church or venue and then the standard wedding photographs.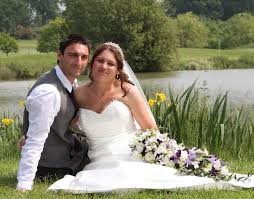 At the reception photographs are usually taken of the bride and groom entering as a married couple and the wedding speeches. Other key moments to consider capturing are the first dance and the cutting of the cake. As well as having your photographer capture some of the more traditional posed photographs you may also wish to get them to take some candid shots of the guests at the evening reception. Some couples are also opting to have photography props and photo booths available for their guests to take away dome beautiful images to remind them of the day.
The types of photos that you have taken will depend very much on the budget that you have available for photography, as well as the location of your wedding and the photographer that you use. Wedding photographers are specialists in their field and you should use as much of their knowledge and have them lead you on the day as to which photos should be taken and when. This means you can relax in knowing that some beautiful memories of your day are being captured whilst you can soak in the atmosphere and enjoy your day as a married couple.