Maintaining our high defenses and a strong immune system is essential to guarantee our health and to be protected against the presence of bacteria, viruses and other germs. Thus, a healthy immune system manages to fight pathogenic microorganisms more efficiently, favoring prevention and a speedy recovery in case of illness. An excellent way to achieve this is thanks to the vitamins and other nutrients in fruits and other vegetables. If you are wondering which juices are good to raise the defenses, keep reading this article because here we show you 5 juice recipes to increase the defenses that are effective, easy to make and delicious.
5 juices that boost immune system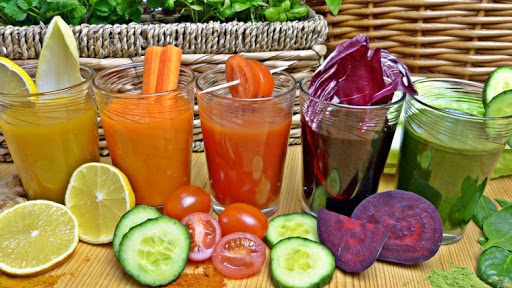 Carrot, apple and celery juice
There is no doubt that the flu is a common enemy of our immune system, as well as some types of herpes and other viruses and, in addition, there are a variety of germs and bacteria that can affect us. That is why, among the juices to raise the defenses that we will show you, we give you this excellent recipe for anti-flu juice that provides antioxidants, vitamins and antibiotics and natural antivirals, in this way you will keep the flu away from you. Likewise, it is also a good juice to increase the defenses during chemotherapy (if the doctor has not indicated contraindication for any of the ingredients indicated here). Take note of this recipe for carrot, apple and celery juice :
Ingredients
2 carrots
1 small green apple
1/2 stalk celery
1 tablespoon fresh chopped parsley (optional)
1/2 clove of garlic (optional)
Lemon drops
Preparation
Wash and peel the carrots, wash the apple but don't peel it, clean the celery and cut the lemon.
Chop the pieces into small parts and mix all the ingredients in the blender or food processor, if you want a more liquid juice add a little water.
Garlic and parsley are optional, as they provide great antiseptic, antibacterial and antiviral properties, but they will modify the flavor of the juice. If you want to add them, now is the time and reprocess the mixture, but if you do not want to include them, we recommend that you consume them in other dishes to include them in your diet and raise your defenses.
For a more liquid result, you can strain the juice before drinking it, but we recommend consuming it all together since everything has its benefits and there are fibers and other nutrients that are only in the skin or the pulps.
Spinach and celery
We continue with this list of juices to strengthen the immune system and we recommend preparing a delicious spinach and celery juice, as they are two foods rich in vitamins, iron and other nutrients that act as antioxidants, antivirals and antibacterials.
Ingredients
Various spinach leaves
1/2 celery stalk with leaves
1 glass of water
Preparation
Wash the spinach and celery stalk and chop them.
Add the pieces in the blender and also add the glass of water.
Process everything until you get a homogeneous mixture and you will have your green juice ready to raise the defenses.
This is one of the simplest smoothie recipes to raise your lower defenses, but to which you can add several more ingredients. If you want to keep it like a green juice you can add green apple or kiwis, but if you just want to increase the antiviral and immune-boosting ingredients, you can also add oranges, lemon and carrot or even ginger.
Beet, celery and cucumber juice to raise the defenses
Do you feel like you get sick a lot lately? In this case, it is important to review your diet and add some foods to increase the defenses or white blood cells, but you can also add this perfect juice to your daily routine to stimulate your immune system and strengthen yourself. If you prepare this juice of beets, celery and cucumber you will get a great contribution of vitamins and nutrients that will come in great.
Ingredients
1/2 beet
1/2 stalk celery
1/2 cucumber
1 carrot
1 tablespoon of parsley (optional)
Preparation
Wash and cut the ingredients into fairly small pieces, thus making your smoothie easier.
Add them to the blender or food processor and grind well until you get a smooth mixture.
If the cucumber water is too thick for your taste, add half a glass of water to make the juice more liquid.
Kiwi and ginger juice to boost defenses
If you like to choose home remedies to raise your defenses in order to prevent some conditions, keep in mind that foods rich in vitamin C should not be missing in your daily diet, as this nutrient is essential to maintain a healthy immune system and ready to fight all kinds of diseases, including the annoying flu. And this option that we offer you with kiwi, ginger and lemon is one of the juices to increase the most delicious and refreshing defenses :
Ingredients
1/3 of a glass of ginger infusion
2 kiwis
Lemon drops
Preparation
Make the infusion with the ginger root. Keep in mind that you can prepare a lot and store it in the fridge to use it for several days.
Fill 1/3 of a glass of ginger.
In the blender or food processor add the previously peeled and cut kiwi pieces.
Mix the juice of these fruits with the ginger and add a few drops of lemon to make it more refreshing and also take advantage of the properties of this citrus.
Pineapple, orange and grape juice
To finish, this is another of the best juices to raise the defenses. Antioxidants are responsible for performing such important tasks as preventing premature aging of cells, fighting against the action of free radicals, which is why consuming foods rich in antioxidants is so important, and with this pineapple, orange and grape juice for increasing defenses you will get an excellent contribution.
Ingredients
2 slices of fresh pineapple
1 large orange
2 handfuls of purple or green grapes
Preparation
Prepare the orange juice.
Peel the pineapple cut the two slices and cut them into pieces.
If the grapes have seeds, you better remove them. You don't need to peel the grapes but you do need to remove the larger seeds. Another option is to buy the seedless or seedless varieties.
Pour the orange juice in the blender or processor, add the pineapple and grapes, blend everything until you get a uniform mixture and enjoy this delicious and nutritious fruit juice to increase defenses.
You may also like to read https://interestweb.co.uk/