We are in carnival, the most colorful, happy and festive time of the year and that just precedes the sober Lent, in which abstinence is imposed and culminates with Holy Week. But until the restrictions come, we can enjoy the culinary pleasures without limits, that's why today we bring you the nine most popular sweets of our gastronomy, because the carnival Spain tastes like tradition.
Dressing up, painting your face to remain anonymous and having fun, is an act that goes back to antiquity and is linked to the enjoyment of carnal pleasures, including gastronomic , as the end of carnival marks the beginning of fasting and recollection . As we are in full bustle of fun, we have collected our most popular sweets because you are still in time to prepare them before Lent arrives. Do you want to know what they are?
1. Bunuelos de Águilas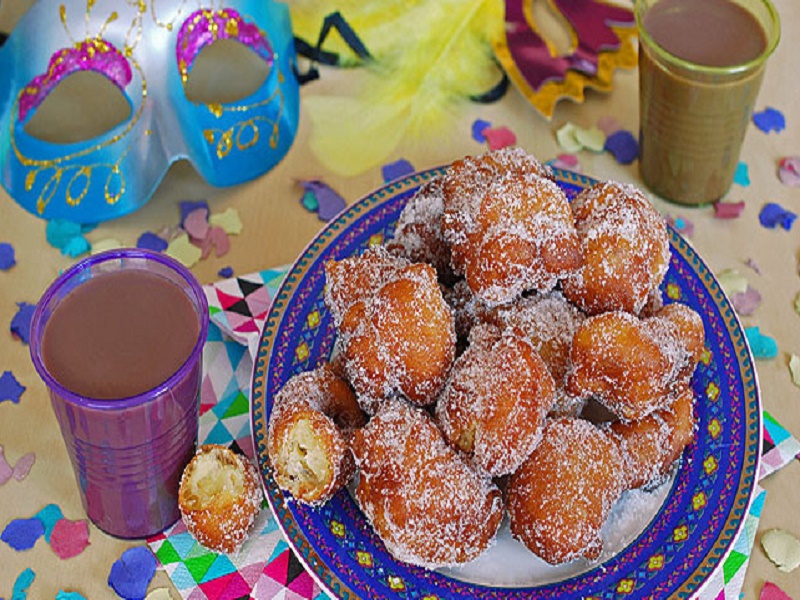 As my beloved companion Liliana explains , the carnivals of the town of Águilas in Murcia were declared of National Tourist Interest in 1997 , and it is traditional to prepare the well-known eel fritters accompanied by a delicious chocolate. Can you think of a better way to sweeten this bustling party?
Ingredients: 1 egg L, 125 ml of milk, 2 tablespoons of olive oil, 125 g of flour, 1 tablespoon of sugar, 1 teaspoon of chemical yeast (impeller), 1 pinch of salt, olive oil for frying, sugar for batter
preparation:Place the egg in a bowl with milk and olive oil. Beat well with rods. Incorporate the sugar, flour, baking powder and pinch of salt, and beat again with energy until a homogeneous mass is obtained. It has to have the consistency of a porridge not too thick and without lumps. Bring a small pot or high saucepan with plenty of olive oil and put on fire. When the oil is hot, take spoonfuls of dough to form the fritters, better working in batches, without filling it too much. Leave to fry on each side until they are golden brown to taste, watching well because they are very fast. Remove the fritters as they are ready with the help of a slotted spoon or similar utensil. Leave on absorbent kitchen paper to lose excess oil. Continue with the rest of the dough.
2. Filloas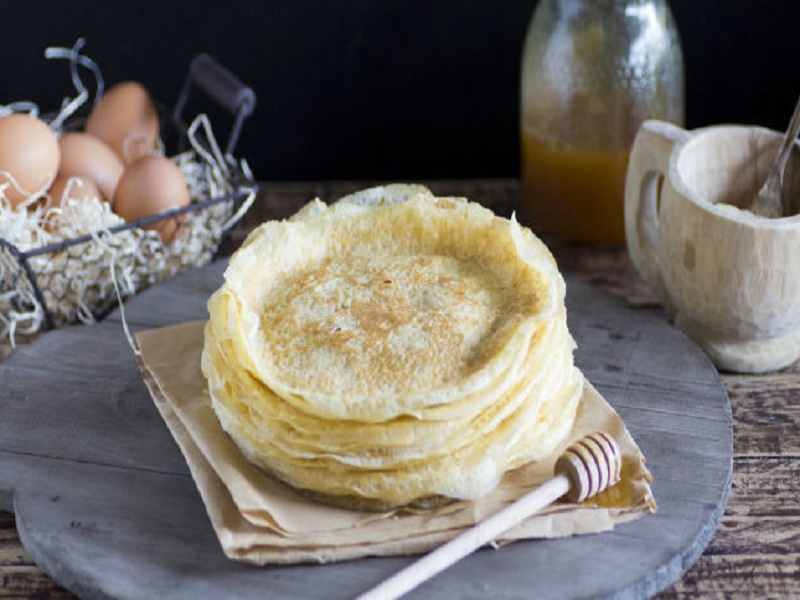 This sweet, typical of Galicia, León and Asturias, dates back to Roman times. The filloas are a simple dessert that are elaborated especially in Carnival. We can serve them stuffed or only sprinkled with sugar. There are variants of pancakes throughout the world : "pita" in Lebanon and part of Africa, "baklava" in Palestine, Syria, Greece and Albania, "blini" in Russia, "pasta filo" in oriental cuisine, "pancakes" in the Anglo-Saxon culture, "crêpes" in France, "plattar" and "crepe suzette" in Switzerland, "pancakes" in Mexico, pfannkuchen "in Germany," crispa "or" crispelli "in Italy and" pancakes "in Chile and Argentina.
Ingredients: 400 ml of whole milk, 100 ml of water, 3 eggs, 200 g of flour, a pinch of salt, 1 tablespoon of sugar, 1 piece of bacon without lean.
preparation:To prepare the adoado, which is the name given to the liquid mass that will give rise to the pancakes, we mix in a container the eggs, the milk, the water, the salt, and the spoonful of sugar. Beat with a few rods until the ingredients are well mixed. We are adding the flour and continue beating so that there are no lumps, we can also put the blender if you have difficulty mixing the ingredients, we must get a relatively liquid mass. Let rest in a cool place a minimum of one hour, this step is important that you meet it so that the dough acquires its final texture. Heat the pan and with the bacon punctured on a fork we greased it. We add a small amount of dough, like the one of a spoon that comes to serve sauces and at the same time we add the dough we are moving the pan in a circular sense so that the whole bottom is covered. There must be a very thin layer. Once we see the edges separate from the pan, we turn it over and leave it a little more so that it is done on the other side, they should not be very toasted. We are stacking them one on top of the other.
3. Ears of carnival
In Galicia, the carnival ears are a typical dessert from the Entroido period (Carnival). Traditionally, they were prepared with cow's butter , but if you have trouble finding it, you can replace it with butter, lard or even olive oil.
Ingredients: 100 ml of water, 1 egg, 75 g of cow's butter, 70 ml of anise, a few drops of anise essence, a pinch of salt, 450 g of wheat flour, lemon and orange zest to taste, 1.5 liters of sunflower oil for frying, icing sugar for sprinkling
Preparation: We put in the glass the cooked lard of cow and we put to melt it 1 minute, 90 degrees, speed 1. We add then the water, the scratches, the egg and the anise along with the drops of essence. Beat 20 seconds, speed 2. Add the flour and salt in the glass and knead for 2 minutes at spike speed. Remove the mass from the glass, wrap it in transparent film, letting it rest for an hour. When the time passes we stretch small portions of dough on a table lightly coated with oil. They must be very thin. We cut rectangles of dough and fry them in small batches of hot and abundant sunflower oil. We pass the ears to a tray with absorbent kitchen paper and let them cool slightly before sprinkling them with icing sugar.
4. Canarian tortillas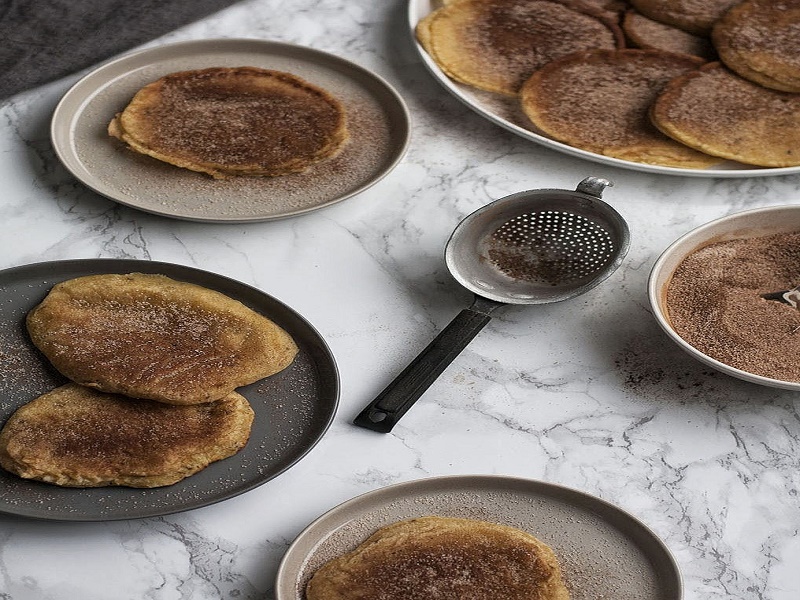 You already know that the carnivals of the Canary Islands are among the most celebrated in all our geography , so you could not miss a typical recipe to enjoy during this time of fun such as Canary Island pumpkin tortillas . There are many recipes, as each family prepares its version, some with pumpkin and even banana. Formerly, in carnival, people dressed in old clothes, men of women and women of men, and joined the serenade from house to house where they were offered omelettes of carnival and rice with milk.
Ingredients: 250 g of pumpkin, a small glass of sugar, a lemon zest, two eggs, 250 g of wheat flour, a small glass of milk, a spoonful of aniseed, EVOO pair fry, sugar to epolvor, cinnamon to sprinkle.
Preparation: We chop the pumpkin and cook it in a pan with a little water for 10 minutes. Once cooked, crush it with a fork until you get a kind of pasta. Mix the pumpkin with sugar, lemon, eggs, aniseed flour and milk, to get a uniform dough. We put the oil in a pan and heat it well. We are throwing spoonfuls of dough and fry them well on both sides. As they are being placed on a source with absorbent paper. Serve pumpkin omelettes sprinkled with a mixture of sugar and cinnamon powder.
5. Casadielles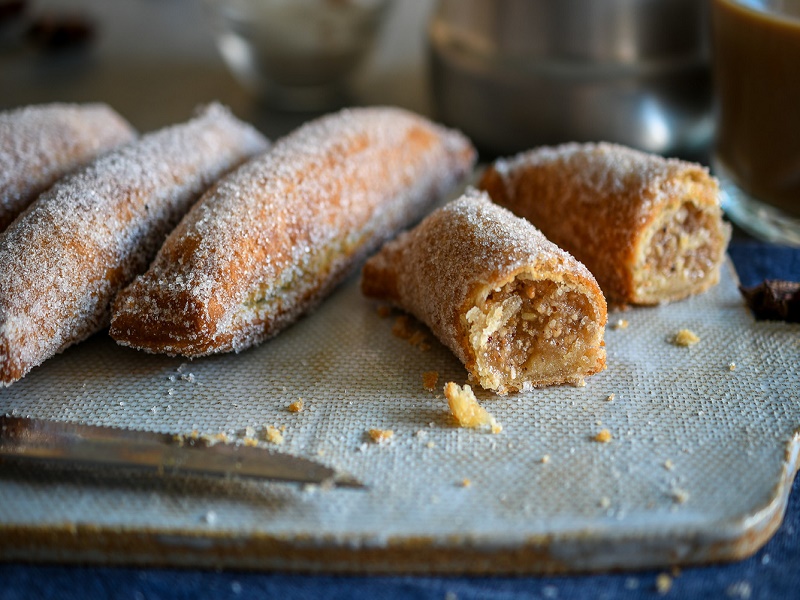 The casadielles or casadielles are a kind of sweet empanadilla filled with walnuts, sugar and anise. Along with the frixuelos are the most typical Asturian carnival sweets, although there are areas where they are taken at Christmas. They are a delicious snack, but strong. Our advice is to make them as small as possible because they fill a lot. Although you can always cut in half and share.
Ingredients: 100 ml of white wine, 50 g of melted butter, 30 g of purée butter, 1 egg yolk, one teaspoon of salt, one teaspoon of chemical yeast dessert, 400 g of wheat flour, 200 g of shelled walnuts, 80 g of sugar, 30 ml of sweet anise, 20 ml of water, sunflower oil for frying, the skin of a lemon, a star anise.
preparation:We flavor the oil with which we will fry the casadielles once assembled. We heat a lot of oil in a pan with lemon peel and an anise star (we can also add a cinnamon stick). We leave it for 10 minutes at medium heat and reserve. We start with the filling, so you can rest and take body. We crush the nut in a mortar or with a kitchen robot, taking care not to happen so that it does not release its oil. We add sugar, anise and water. The latter we do little by little, just in case there is too much liquid left. If so, add more crushed walnuts. For the dough, in a deep bowl we mix the oil, the wine and the salt. We beat with a few rods to emulsify slightly. Add the chemical yeast, the egg yolk, the melted butter and the butter at room temperature. We beat again. We incorporate the flour, little by little, and stir until obtaining a soft dough that does not stick to the hands. Maybe you do not need to use all the flour. With the help of a roller we extend the mass in the form of a square 1 cm thick. We fold the dough in half and fold it in half again so that we have a square. We stretch the dough and repeat the operation three more times. Finally fold the dough, cover with a damp cloth and let stand in the refrigerator for two hours. We extend again and we make 12 squares of half a centimeter of thickness. We place a strip of the filling in the center of each, without reaching the edges. Wet the ends and fold over the stuffing. Press the narrow sides with a fork so that the dough does not come out making the characteristic drawing of casadielles. We remove the anise star and the lemon peel from the oil and heat it again. Fry casadielles over medium heat, with the union downward initially to seal. Once browned, place them on absorbent paper to drain excess fat. Then we coat them in sugar and ready to serve.
6. Fried milk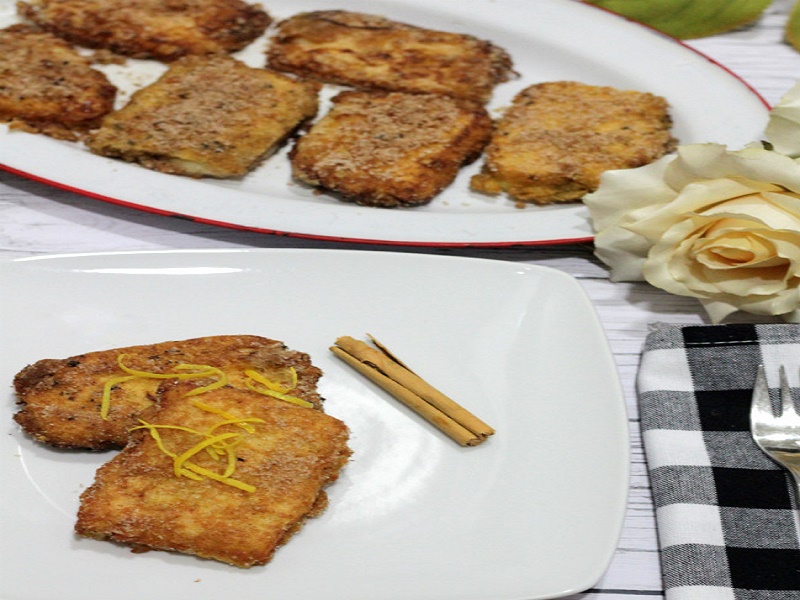 The fried milk is a traditional Galician dessert that is present in the cookbook of all families. The truth is that few sweets are beyond this recipe , both for its simplicity and how delicious it is. Although it is a typical Carnival preparation, the truth is that it is prepared and consumed throughout the year. It would be a shame not to do it!
Ingredients: 400 ml of whole milk, 35 g of cornstarch, 80 g of sugar, the peel of a lemon, a stick of cinnamon, beaten egg, sugar and cinnamon powder.
preparation:The first thing to do is prepare a milk full of flavor, infusing the sugar, cinnamon stick and lemon peel in 300 ml of milk. When it reaches a boil, we put out the fire. For the milk to take a lot of flavor, here comes the first trick: we cover the pan and leave it like that for 15 minutes. We combine the infused milk and pass it to a clean saucepan. Next, in the other 100 ml that we will have left in the fridge so that they are very cold, we dissolve the cornstarch, beating vigorously. We pour the milk with cornstarch over the infused milk and put the saucepan back on the fire, stirring to make all the ingredients well integrated. If we do it over a high heat, the milk will begin to thicken too quickly so here comes the second trick : It is preferable to put the fire the minimum and stir continuously so that the milk with cornstarch takes longer to thicken, and is really rich. So we get two things. One, we avoid that it sticks in the saucepan, which could ruin the flavor. And two, so we avoid that the mass of fried milk is raw and tastes like flour. After about 20 minutes stirring, you will be at your point. We pour the cream into a rectangular container and cover with a kitchen film that is in contact with the surface, to avoid that we get "crust". Next, we put the cream to cool in the refrigerator, at least for 4 hours, but better if we do it from one day to the next. Once cold, cut the cream into eight rectangular portions, if you want them traditional, and we passed them through cornstarch and egg frying them in hot oil. When they are browned, We drain them on absorbent paper and coat them with a mixture of sugar and cinnamon powder. We serve garnishing with lemon peel shavings.
7. Honey soups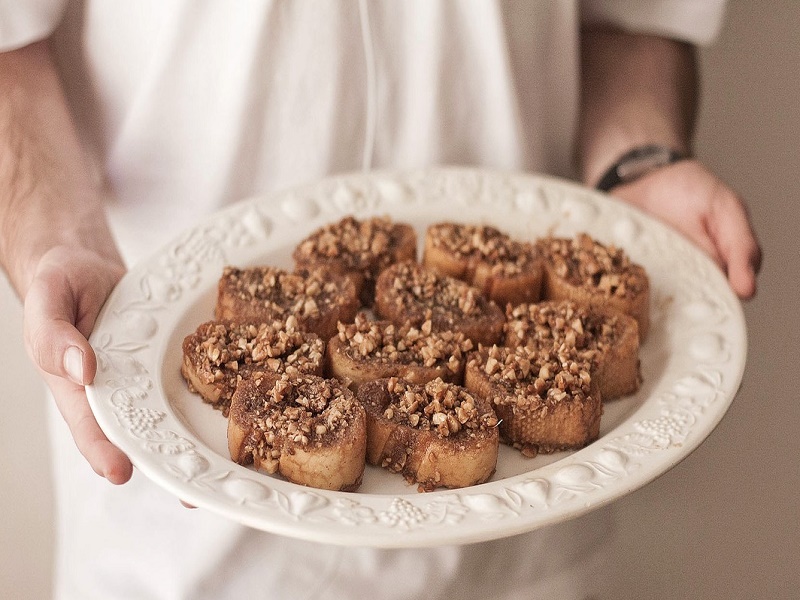 The soups honey are a canary dessert, namely La Palma , especially for gourmands and traditionally prepared during Carnival. In addition, it serves to take advantage of the hard bread that has remained since this is indispensable so that it can be dipped well in the honey.
Ingredients: 60 g of toasted almonds, 20 ml of molasses or cane honey, 1 tablespoon of aniseed, the skin of half a lemon, a tablespoon of ground cinnamon, hard bread cut into slices, half a glass of water.
Preparation: We start by putting the almonds on a wooden board and chopping them irregularly with a knife trying not to get too crushed, but there are some pieces larger than others. We cut the bread into slices and set it aside. In a wide and low saucepan, we put the honey, the water, the anises, the lemon rind and the cinnamon and we take it to the fire. When it begins to boil, add the chopped almonds and slices of bread, allowing them to soak in the mixture, turning them over and placing them in a dish.
8. Torrijas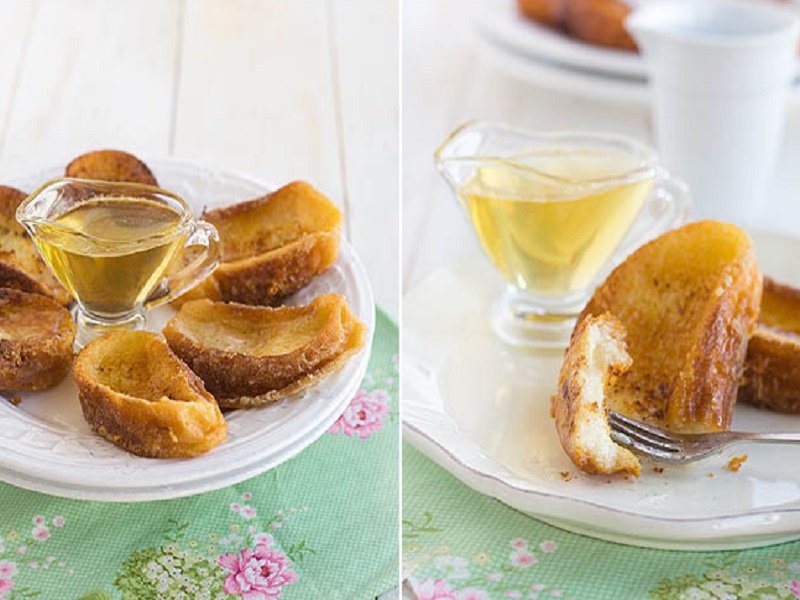 The origin of the torrijas goes back to Roman times, although more similar to as we know them now, they have their origin in the XV century when, due to their high satiating and caloric power, they began to prepare themselves to relieve the parturients by giving to light and promote their recovery . How they happened to be a typical carnival candy and Lent is not known, but because of the simplicity of its ingredients it is not unusual for it to soon extend its consumption, because they are also very rich.
Ingredients: 12 slices of bread for torrijas or hard normal bread, 250 ml of whole milk, 30 g of sugar, 1 lemon peel, 1 vanilla pod, 1 cinnamon stick, 1 egg XL, sunflower oil, 100 g of sugar, 20 g of soft honey, 1 tablespoon of brandy and 165 ml of water.
preparation:We start by making the syrup by pouring sugar, honey and brandy into a saucepan. Cook until the mixture acquires a blond color, like caramel. We add the water carefully, as it can splash and burn, stir well and cook for 10 minutes more. We remove from the fire and reserve. In another saucepan slowly heat the milk, which we will use to dip the torrijas, next to the sugar, the lemon peel, the open vanilla pod and the cinnamon stick, until it boils. We put out the fire, cover and let it infuse a little. Once it is almost cold we can use it and soak the torrijas. Heat plenty of oil in a deep pan. We soak in milk on both sides each slice of bread, drain and go through beaten egg. Fry until the toast is browned on both sides. Place on absorbent paper for a few minutes, plaster and water with the honey syrup once it is cold. They are perfectly preserved until the next day if we cover them with silver paper, so we can do them in advance to organize ourselves better.
9. Carnival curd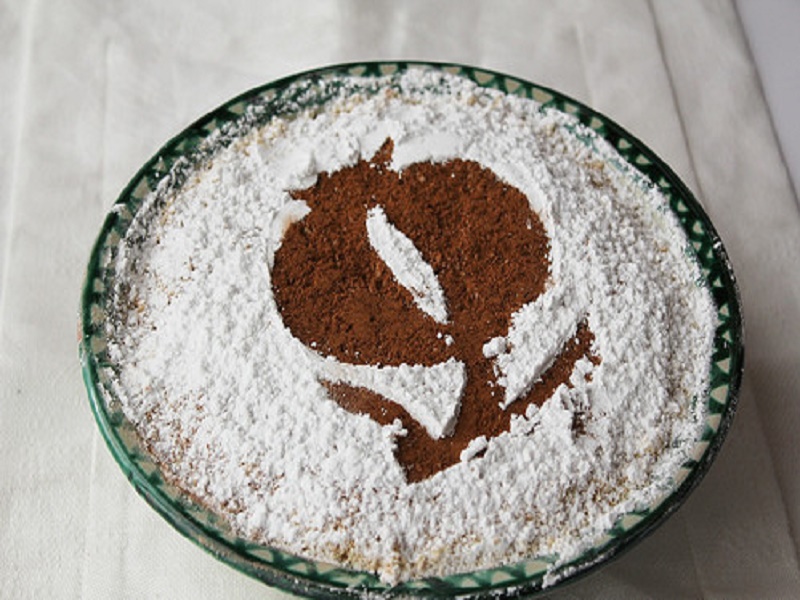 The carnival curd is a typical Granada dessert that is always presented in a ceramic fountain from Granada, better known as Fajaluza, and ends with a cinnamon and sugar glass ornament forming drawings like the pomegranate, symbol of the city. In addition, it is the perfect way to take advantage of the mantecados and the polvorones that have remained over Christmas , although in Granada it is easy to find in some establishments the days of Carnival, shortbread to prepare this delicious dessert, which is eaten by spoonfuls.
Ingredients: 400 gr of shortbread or polvorones, 150 gr of alemendra in cubes, 25 gr of fine flour of corn or maizena, 3 eggs, 100 gr of sugar, 300 gr of milk, 1 teaspoon of lemon essence, angel hair, extra virgin olive oil, a splash of milk, ground sugar and cinnamon.
preparation:In a bowl we put the milk, the sugar, the cornstarch, the eggs and the essence of lemon. We mix and reserve. In a saucepan put a little extra virgin olive oil with the almonds on medium heat until golden brown. We add the reserved mixture to the almonds and to medium heat we cook without ceasing to mix until it thickens. Crush the shortbread or polvorones and cover a basin with them, the bottom and walls. Another option is not to line the side and do it only with layers, so we make sure that the whole is well compacted. We put in the bottom a finite layer of angel hair. On top of a layer of cream, it is thicker than that of hair. Now another layer of shortcakes. Another layer of angel hair. Another layer of cream and we finished with a layer of shortcakes. Sprinkle cinnamon all over the surface. We place a template and sprinkle ground sugar. We keep in the fridge for half an hour and serve.