The first thing to check before attaching any structure to your property is what local regulations might apply. This will give you peace of mind before you embark on the exciting project. Here are some further important factors to consider when wishing to add a carport to your home:
Carports are relatively easily to construct and make the ideal solution for homes without a garage. They do not require a huge amount of resources and are an affordable choice. The fun part is choosing which design and style would best suit your property. If you intend to install yourself, it's best to choose basic designs but for more elaborate and skilled ports, seek the services of a professional. For a stunning Bespoak Oak Carport, visit www.bespoaktimberframes.co.uk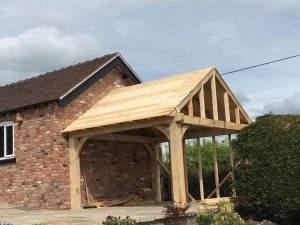 You'll want to choose the finest quality materials, and this can be metal, wood or vinyl for example. The material you choose will affect the cost of the structure but for the ultimate stylish and traditional look, oak is hugely popular.
People prefer using wood as it's easier to work with and the aesthetics are beautiful. Wood is also highly versatile and can be fashioned into almost any design you desire. Whether you choose a flat roof, vertical roof or gable roof is entirely your choice. Consider though that if you live in an area that sees heavy rain or snowfall, a vertical-style and slanted roof is preferable to a flat one.
It's important to select the best location around your property. Ideally, the closer to the home, the better as this is the sturdiest place for the structure to be built. You can choose from a standalone structure or a semi-attached one, attached to your property. This is also more convenient for entering and exiting your vehicle, out of the elements. Of course, it doesn't have to be attached to the house, as long as stability is ensured.
Think about how the existing property is positioned and structured. Consider how much space you'll require for your vehicles and have the height of the carport at the same level as the eaves of your home.
Before the builders are due to arrive, make sure you have cleared the area and made any other preparations that the construction company may have requested.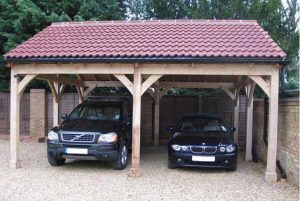 The best size, style and material choice will depend a great deal on what you intend to use it for. Yes, a carport is primarily used for the safe storage of cars, but you might need something bigger to incorporate shelter for an ATV, collection of motorbikes, boat, trailer, caravan or motorhome. You might also want to include enough extra space for storing other items, using your carport like an outdoor porch, for example.