Watford is a small market town situated in Hertfordshire, surrounded by beautiful rural English countryside. It is extremely popular with commuters and families, who move out of London, in search of more affordable properties and a more relaxed lifestyle.
Watford was once named "the happiest place in the East of England and Hertfordshire" by the Office for National Statistics. It is easy to see why people are drawn to it. We take a look at some of the top reasons why people love Watford so much.
Location and Transport Links
Situated on the edge of the beautiful Chiltern Hills, Watford has excellent transport links. Firstly, it is within easy reach of the M1, which connects London to the Midlands and Northern England, and the M25, the London Orbital Motorway. Commuters can be in central London via the M1 in 50 minutes.
Watford has three local railway stations (Watford Junction, Watford North and Garston). Watford Junction is also on the London Overground Service, running on the Watford DC Line. London is only a 20 minute ride away when using the Metropolitan line on the underground services. Watford is also in Zone 7 of the London Fare Zones.
For those looking for a cleaner and greener way of getting around, Watford has 369 cycle routes.
Property Prices
The average price for a detached house is £800,000. Semi-detached houses are slightly cheaper and currently sit at £550,000. Terraced properties currently average at approximately £430,000. Flats have seen average sale prices of around the £270,000 mark. Compared to surrounding areas, Watford is more affordable than many other parts of Hertfordshire, and considerably more affordable than London, making it a highly sought after location. Firms such as Sam Conveyancing can offer a home buyers survey Watford, together with expert conveyancing as properties are often snapped up quickly.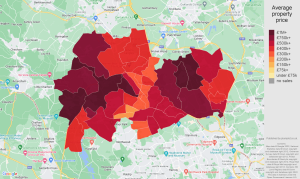 Education
Many of Watford's primary and secondary schools are rated either "outstanding" or "good" by Ofsted. There are two grammar schools in Watford, Watford Grammar School for Girls and Watford Grammar School for Boys, both of which are highly sought after. The local college, West Herts College, offers a diverse range of courses and programs. Watford doesn't have a university of its own, but London universities are easily accessible.
Crime Rates
With 72 crimes recorded per 1,000 people, Watford is at the higher end of the scale but, as with any location, crimes do not occur uniformly across the area and local knowledge is important in understanding the nuances and differences between locations within Watford.
Attractions
Cassiobury Park is an award winning park and a year round attraction. Filled with paddling pools, a bandstand, cafes, and a minute railway, the 250 acre site is rich in natural beauty. With riverside walks, open spaces for sports and picnics, and stunning woodland areas, it is easy to see how Cassiobury Park received its Green Flag award.
Watford Vue is a modern 11 screen cinema that shows all the latest films. There is also a busy Hollywood Bowl and a soft play centre. Everything you need to entertain the family is within the complex.
Watford Palace Theatre is a 600 seat Edwardian theatre. Built in 1908, the stunning theatre offers a range of musicals, dance performances and plays.