We are completely in love with pasta! In general, they are super simple recipes to prepare , and adapt to all tastes, from meat, fish or seafood, to vegetables, mushrooms, cheeses, homemade sauces .
This vegetable lasagna is my favorite, as it combines different vegetables that I love. The good thing is that you can use the vegetables that you like the most , and you simply need to sauté them and leave them to your liking to include them in this recipe. In addition, the gratin touch in the oven is authentic … scandal!
To be able to add a béchamel that maintains that creamy layer  on which the cheese is grated is … simply delicious. You can also make it more compact as in this case, or mount it directly in individual clay pots and surround them with béchamel sauce or tomato sauce, as the case may be.
If you like lasagna, on the blog we have two other proposals that are authentic classics: lasagna with spinach , and lasagna with meat from Bologne . And for similarity, do not miss a cannelloni of minced meat and fresh pasta with bechamel .
Also, you will surely love the rest of the pasta recipes    we have published, such as the classic pasta with homemade bolognese sauce , or our special scandal spaghetti with mustard and cheese béchamel sauce . If you like cheese, enjoy these macaroni with roquefort sauce without cream , and if you dare to make a good homemade sauce, prepare our tagliatelle pasta with pesto sauce .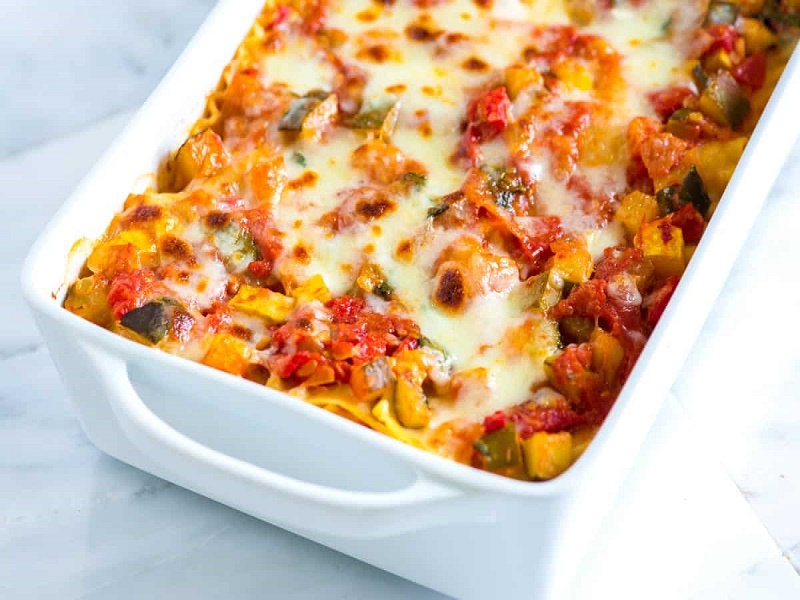 Ingredients to make the recipe for vegetable lasagna (6 people):
24 plates of lasagna (if they are precooked, you will only have to soak them).
1 large onion
1 zucchini
1 eggplant
2 carrots
200 gr of broccoli
200 ml of tomato sauce.
Cheese to gratify, emmental type or mozzarella.
Oregano.
Oil and salt.
For the bechamel sauce:
1/2 liter of milk (the equivalent of a little more than two glasses of milk).
2 tablespoons of flour.
3 tablespoons of butter.
Salt.
Spices to taste (nutmeg, pepper, oregano …).
Preparation, how to prepare lasagna of vegetables, a vegetarian and healthy recipe:
1. In a saucepan over low heat, add the two tablespoons of  butter , and when the butter melts and stays liquid, add the tablespoons of  flour  and stir everything very well, so that a homogeneous paste is formed and no lumps of flour remain.
2.Then add a little  milk  (half a glass) and keep mixing well. When everything has been integrated, add the rest of the milk and do not stop stirring with a stick or a spoon, so that it does not stick to the bottom. Add  salt  to taste, and also  spices , for example ground black pepper and oregano.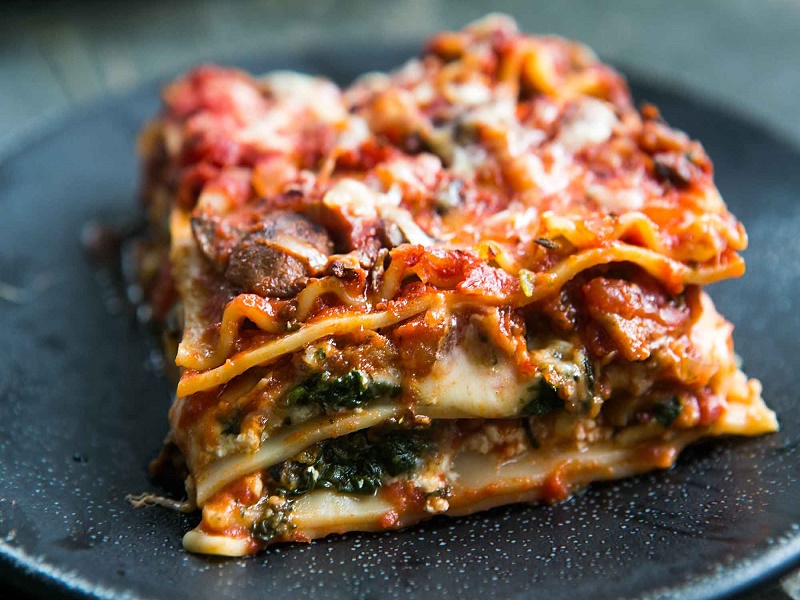 3. When the sauce is  creamy  and with the right texture, remove it from the heat and reserve it. If at the time of adding it to the lasagna is a little thick, add a splash of milk and stir well.
4. If your lasagna plates are precooked , soak them by soaking them in a container with water, usually for 10-15 minutes (the package will indicate this). Remove them every so often to avoid sticking. If they are not precooked , follow the package instructions to cook them.
5. Peel the onion and cut it small. Wash the eggplant , zucchini and carrots , and cut them into small cubes. Wash the broccoli , let it drain and cut it into small bouquets.
6. put each vegetable, one at a time, in the pan over medium heat, with a little oil and salt . They will be ready each when they begin to brown.
7. Preheat the oven to 200ºC.
8. Begin to assemble the lasagna : place on a baking sheet 6 sheets of pasta , then a third of the tomato sauce and a quarter of the béchamel sauce .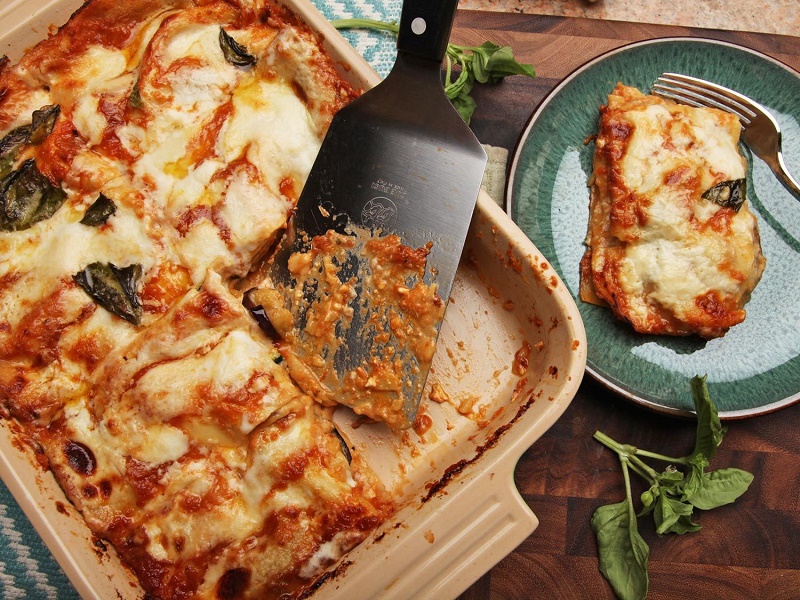 9. Put the aubergines and half the onion on top .Once again spread another layer of 6 sheets of pasta , cover them again with tomato sauce and bechamel , and add the other half of the onion and all the broccoli .
10. Again another layer of pasta , tomato sauce and bechamel , and zucchini and carrots .
11.Return to cover with 6 sheets of pasta , pour all the remaining béchamel sauce on top, and sprinkle the cheese .
12. Bake the lasagna for 15 minutes at 180ºC . When you see that the cheese has browned slightly, it is ready. Remove it from the oven and let it rest 5 minutes before serving and cut it.