Swansea is a relatively young city – it was only granted the status of city in 1969, as the area had grown so much in population, mainly due to it being a major coal mining region. Although coal mining is something that no longer goes on in such a scale in the UK, the city of Swansea is still large and home to many modern businesses such as this web design Swansea based company www.accent-adc.co.uk/service/web-design-swansea/ as well as many modern shops and services.
Something else that brings people to Swansea is the fact that just a stone's throw from the city you can be on one of the beautiful beaches of the Gower peninsula – this is a region famed for its stunning seaside. There are many beaches in the Swansea area – here are just a few of them…
Bracelet Bay – If you love to be beside the sea and like rummaging in the rockpools this is the perfect spot for you. There is so much to explore at this beautiful beach and there are lots of different species of fish, crabs and marine life to be found in amongst the rockpools, there is even a cave to go and explore if you really feel adventurous. The unique geology of this bay makes it interesting as well as beautiful and is a great place to visit.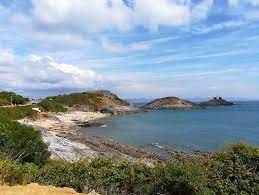 Port Eynon – This award-winning beach is situated right on the southern point of the Gower peninsula. It is safe and sandy, so is perfect for younger children who want to enjoy paddling in the sea, as well as building sandcastles. There is also the chance to try out some water sports at this beach if you are feeling the need for thrills!
Three Cliffs Bay – If it is wild and natural beauty you are after, head to three cliffs bay. With the rugged limestone cliffs as the backdrop, there are also sand dunes to explore and enjoy here as well as the beautiful beach itself of course. This is also a good place to enjoy an idyllic horse ride along the shore, as well as a pace to capture some beautiful photographs as it really is picture perfect.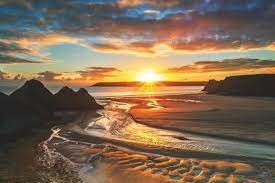 Rhossili – This beach is world renowned and is not only considered one of the best in the UK but one of the best in the world, so if you are in the area, it is somewhere that you really must visit. Go up to the downs that overlook the beach if you want to take in the gorgeous view in all its glory before heading down to the beautiful bay to chill out on the sand, take a dip in the sea or try out some water sports all along this stunning three mile long stretch of beach.
Brandy Cove Beach – For a secluded spot head to Brandy cove. You can get to it via a path from the Caswell Bay cliffs and it is a beautiful and more quiet location where you can soak up the sun, sea and sand, and get the peace and quiet you crave.