If you spend a lot of time commuting, the last thing you probably want to read about is motorways. However, there are some fascinating facts about the UK's motorways that are a lot more interesting than sitting in a traffic jam on one! Seeing as we spend a considerable time sitting in traffic or travelling on motorways, we might as well learn to love them, their history and their unique attributes. Here are some motorway facts so that you can impress your passengers next time you're travelling on one:
The very first motorway in Britain was the M1 and it originally connected Rugby and St Albans. It was opened in 1959. It was only 8 miles long initially and the then prime minister Harold MacMillan was the first to be driven along it on 5th December 1958. It is now a part of the M6.
What makes a motorway a motorway? A stretch of road must meet certain criteria for being considered a motorway. These include blue signs, no cyclists, no tractors and a 70mph speed limit.
The widest road in the UK is found at Linnyshaw Moss on the M61. It has a whopping 17 lanes and 8 hard shoulders! Now that sounds like a complicated stretch of road!
The most northerly motorway is the M90 which travels across the Firth of Forth in Scotland.
There is no M7 because there was never a need to ease traffic pressure on the A7 road.
It took 2 million tons of concrete to lay the entirety of the M25 motorway.
The M62 is a pretty high road, sitting at 1222 feet above sea level as it spans Saddleworth Moor.
The most congested and busy stretch of motorway is between junctions 13 and 14 of the M25 just outside Heathrow Airport.
Emergency vehicles and road working crews should be highly visible to motorists by displaying reflective chevrons for safety. For more details on Chapter 8 regulations, visit PVL UK
The longest motorway in the UK is the M6 which runs from Leicestershire to the Scottish border and is 236 miles long.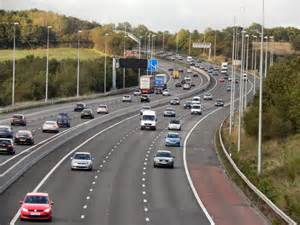 When the M25 was first constructed, it was the longest ring road in the world at 118 miles surrounding London. It now sits in second place after a ring road in Berlin.
The M1 was originally built to handle 14,000 vehicles per day but now experiences 10 times that amount.
The top speed limit of 70mph was imposed in 1965. This was a result of an express train service running alongside the M1 and motorists were trying to keep up with the train!
The shortest stretch of motorway is the A635(M) as it joins the A57(M) on the Mancunian Way at a mere 0.6 miles long.
Apparently the M6 is the most haunted motorway in the UK as it has the highest number of reported ghost sightings!
On average, we spend 11 months of our lives driving on motorways.