In August 2018, the world ranking of mobile manufacturers changed. For the first time, Huawei became the second manufacturer, ahead of an Apple that does not go through its best. Indeed, last week, the Cupertino company reduced its quarterly revenue forecast. The reasons are, partly, in the fall of sales in China, a country that suffers a strong economic slowdown, and by the arrival of companies capable of imitating the innovations of the iPhone and market their own cheaper phones.
For its part, the world number one in sales of smart phones, Samsung, loses share. According to Counterpoint Research, in the third quarter of 2018 Samsung fell 13% in sales of smartphones while Huawei grew by 33%. In addition, the Korean company has announced this week that it expects its operating profit to fall 28.7% year-on-year in the last quarter of 2018 due to a worse-than-expected demand in the chip sector, the current Samsung hub, and " the growing competition in the smartphone market. "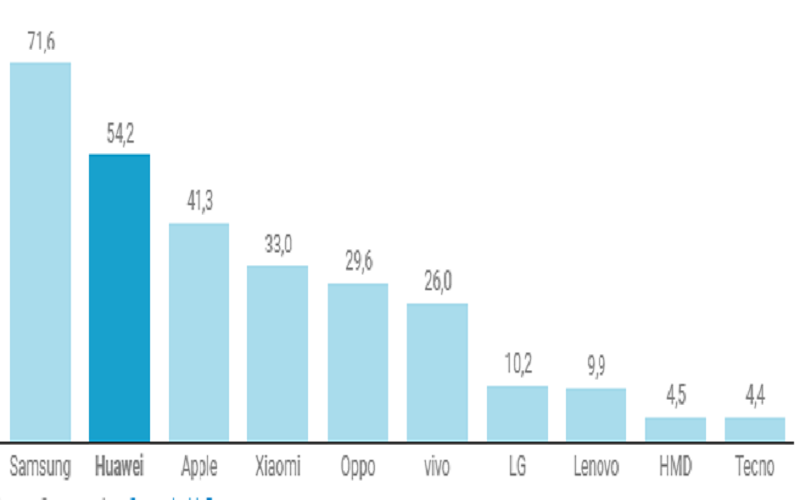 Can Huawei then surpass Samsung?
It seems that at the moment no. "It is likely that Samsung will continue to have the crown this year, partly because we expect smart phone sales in China to continue to decline. Samsung has almost no exposure to these problems in China, since its sale of smartphones in the Asian country is negligible. Huawei does depend on China for a very large proportion of its sales, "explains Dominic Sunnebo, global commercial director at Kantar Worldpanel.
According to José Antonio Cano, director of Analysis of IDC Research Spain, it is difficult to know if Huawei will manage to snatch the throne from Samsung this year. "While it is true that in 2013 the smartphone market was concentrated in few brands, we have witnessed a redistribution in five years in which Huawei has gone from representing 4.8% of the market share (compared to 31.1). Samsung%) to 13.9% (compared to 22.2% of Samsung). In this scenario, other competitors such as Xiaomi appear to be gaining market share. "
In addition to the slowdown in the Chinese economy, Huawei is in the sights of the US government for security reasons. The tension has risen after the December arrest of the daughter of the founder of the Chinese company in Canada. Despite this, Huawei aspires to reach the international podium in 2020. "Our goal is to be number one globally by 2020, and we will achieve it based on innovation and brand recognition," they say.
A MARKET THAT DOES NOT GROW 
The outlook in the mobile market is complicated in 2019. Last year, the sale of smart phones fell for the first time in history. According to IDC, in the third quarter of 2018, 355.2 million mobile phones were sold, 6% less than in the same quarter of 2017.
This trend will continue in 2019 according to Dominic Sunnebo, because users have stopped renewing their phones as fast as before. In Spain, the life cycle of a smartphone has increased by 20% in two years, from 19.9 months in 2016 to 23.9 months in 2018, says Kantar. This is due, according to Sunnebo, that consumers perceive a lack of innovation and have also seen the price of mobile phones increase considerably.
The companies most affected by this situation will be companies such as Apple, which with terminals above 1,000 euros have seen other competitors such as Huawei stole an important part of the cake. In addition, the arrival of other Chinese competitors who previously only sold online in the West and who have now decided to open their market to this part of the globe, could affect giants such as Apple and companies that have been losing notoriety in the mobile market, such as Sony or LG.
In this aspect experts point to brands like Oppo. "We can expect Oppo to join the fight in Europe this year, after landing in 2018. This is a company with a large footprint in China and India, with a range of products across the price spectrum." Xiaomi, for its part, will try to replicate the success obtained in Spain in other European countries, such as Italy, France or the United Kingdom. "It is clear that seeing the success that Huawei has had in Europe in a relatively short space of time has motivated Xiaomi to follow in its footsteps," adds Sunnebo.