A few years ago, serviced apartments were still fairly rare in the towns and cities of the UK. They tended to be used for corporate lettings and weren't accessible to most independent leisure or business travellers. Today, however, there are countless serviced apartment blocks in all the country's major cities. Why have they become so popular, and what is the outlook for serviced apartments?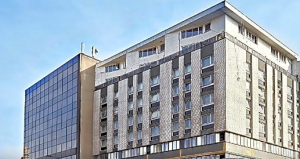 How serviced apartments work
A serviced apartment is a fully furnished and well-equipped property that is somewhere between a hotel and a regular rental apartment. They offer many of the services and amenities of a hotel, but with the extra space, privacy and independence of an apartment. While companies such as Airbnb offer private rentals in city centre flats and apartments, using a serviced apartment generally ensures a certain standard of comfort in the accommodation, as well as a guaranteed professional experience. Although they originally appealed predominantly to business travellers, in recent years increasing numbers of leisure travellers and tourists have started to choose serviced apartments over traditional hotels or holiday lets.
It can be cheaper to stay in a serviced apartment than a business class hotel, especially when you factor in the ability to prepare meals in the apartment kitchen rather than having to eat out every evening. Such apartments also tend to have good access to local amenities and infrastructure, with good links to public transport and other essential services. They are also usually situated in the central parts of the city, providing easy access to the majority of tourist attractions for leisure travellers.
Serviced apartments in Birmingham city centre, Liverpool, Manchester and Newcastle are now a common sight, and with luxurious accommodation on offer from reputable providers. There is certainly no shortage of properties for business or leisure travellers.
The future for serviced apartments
Serviced apartments continue to grow in popularity and the trend shows no signs of slowing down. Serviced apartments actually outperform hotels in many sectors and are the first choice for an increasing number of travellers. The Association of Serviced Apartment Providers (ASAP) recently revealed that occupancy rates in the UK's serviced apartments for the first quarter of this year were up 2% on last year. Of course top of the list in terms of popularity is still home ownership and this is set to always be the case. If you are in the market for looking to move house and need legal advice, why not get in touch with Ascot solicitors companies such as Parachute Law.
London achieved the highest rates of occupancy but the sector as whole performed very strongly.