A garage does not have to be a small, cluttered space at the end of the garden. These days, the garage is much more than an extra car parking space or storage area, it can be an extension of your home. Whether your old garage needs a makeover or you are planning on building a new one, here are some features that will make it a worthwhile investment:
Despite a lot of garages being used as dumping grounds, if you are wanting to store things then why not do this with cabinets or shelves? Installing shelves will make finding tools, surfboards or even bike pumps, easy to find. Cabinets do not have to look unpleasant either, you can get bespoke storage units that fit into your specific space.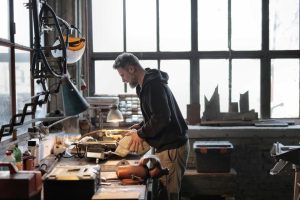 Part of the reason you may not want to use the garage as extra space is that it may be only supplied with a small lightbulb to light up the whole space. A great way to open up a garage and make it more inviting is through the installation of good lighting or windows, as you will be able to properly access what you are doing in a more enjoyable environment.
If you are planning on spending a lot of time in the garage, adding a heating system is the perfect investment to be comfortable in all that British weather brings! It can be done cheaply, and you will not feel time pressure or be shivering away and rushing a job and can enjoy the cosy heat that you would feel in a home.
There are plenty of features to add to a garage that will make it fit in with its surroundings, but also look smart. A great feature that will give it a 'wow' factor is oak frames. If you plan on having an open plan garage for wood storage or car parking spaces, Oak Framed Garages can bring to life the structure with its modern and aesthetically pleasing look. Companies such as Timberpride https://www.timberpride.co.uk/oak-framed-garages/ can create bespoke designs especially for your space.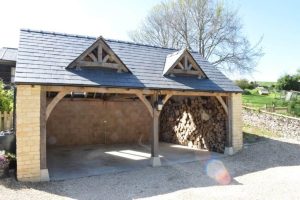 The last thing you want in a garage is for all your tools to be on the floor and out of reach. Having a workbench is practical, and the perfect feature for completing DIY projects or even another way to store smaller parts. A bench also creates a space for you to sit and think, encouraging you to spend more time in the garage.