There are millions of people around the world who regularly enjoy undertaking crafts of many different varieties. These could be crafts that they enjoy as a hobby or in some cases they may even have turned these hobbies into businesses. Online companies such as Esty and Not on the High Street have built their entire business models around crafters. These platforms allow people to sell the things that they make and this can either fund their hobby or bring them in some extra income.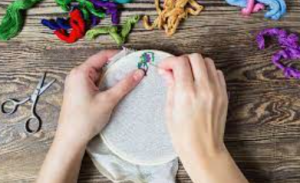 When it comes to Christmas, Valentines Day and Birthdays, craft lovers are some of the easiest people to buy presents for as there is a whole array of items available. It is important to know what crafts the individual enjoys and whether there are any other crafts that they might be interested in. Here are a few gift ideas to get you started.
Classes – there are lots of craft based classes available and these can vary from those that you can take online, through to those that are held in a local village hall, or even those that are held in a college environment. The type of class that you choose will depend very much on the individual that you are buying the gift for.
Kits – these can be a great option if you are looking for a new craft to give to a family member or friend. You can find these in everything from jewellery kits through to Crochet Blanket Kits like the ones from www.woolcouturecompany.com/collections/blanket-and-cushions-crochet-kits. The type of kit that you choose will of course depend on the crafts that you are looking at.
Equipment – if your family member or friend is really into a particular craft type you might want to get them some tools or equipment that are linked to this. Again these can be small items such as crochet hooks or knitting needles right through to larger items such as foil cutters and printing machines.
Gift vouchers – if all else fails you can always buy them a gift voucher to spend in their favourite craft shop. All craft lovers will enjoy the shopping element of their craft as much as they enjoy the actual making of the items that they create.