Tomato sauce is a healthy, tasty and nutritious complement to many dishes, as well as an essential ingredient for world-famous recipes. We can all make a tomato sauce since its preparation is very simple. In addition, it has the advantage that it does not lose properties or flavor if you preserve it, so you can make a good amount and store it in jars or freeze it. Follow the instructions and you will know how to make homemade tomato sauce, either for pasta, for pizza or for any other dish. Discover the fresh tomato sauce recipe.
Fresh tomato sauce recipe
And if you are still doubting whether it is worth making your own tomato sauce, we will tell you that it is one of the vegetables that provide fewer calories and more vitamins, including the successful trio of antioxidant vitamins C, E and A that helps to strengthen the system immune, prevents premature aging and helps our tissues stay healthy and strong. Just 200 grams of tomato provide us with 80% of our body's daily need for vitamin C. Now that we have convinced you, let's prepare the sauce!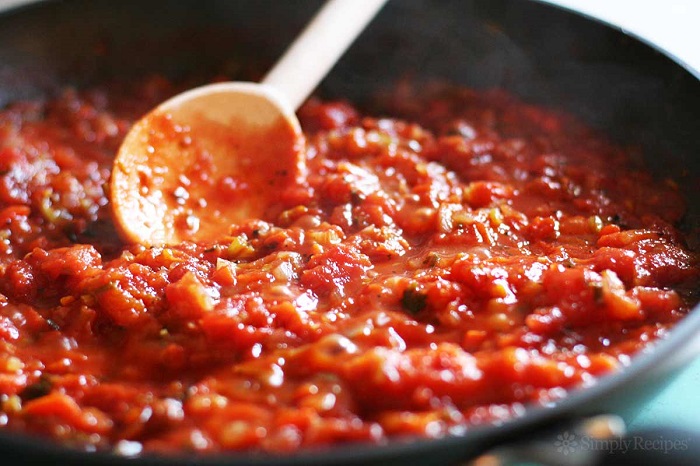 Ingredients:
2 kilograms of tomatoes
1 large onion or 1 and 1/2 medium-sized onion
1 or 2 cloves of garlic, depending on size and taste
1 tablespoon salt dessert
1/4 tablespoon sugar dessert
1/2 glass or 100 cc of olive oil
Optional: green pepper, red pepper, oregano, black pepper, basil, sweet or hot paprika.
You will need:
Pan
Skillet
Wooden spatula
Mixer
Glass jars to preserve
Preparation
Peel and chop the tomatoes into small pieces. To easily peel the tomatoes, wash them first and make a small cross at the base with a knife. Put them in a saucepan with water to heat until it boils. You will see that the skin of the tomato rises and it will be very easy to remove it by hand.
Peel and chop the garlic and onion into small pieces.
Pour the oil into a pan and put it on medium heat. Add the garlic and onion and let them fry for about 5 minutes until the onion begins to turn transparent. If you are going to use homemade tomato sauce to accompany dishes made with meat, such as meatballs, you can add vegetables such as green pepper and red pepper.
Add the tomatoes, including the liquid they release when cutting them. Also add the salt, sugar and let the whole mixture simmer for approximately 30 or 45 minutes (depending on the maturity of the tomato and the size of the pieces).
If we want the sauce to be redder, you can add half a tablespoon of sweet paprika dessert just before removing the pan from the heat. Add it while stirring.
Run the entire contents of the pan through a mixer to remove the remaining pieces and you have a fine and consistent sauce.
If you want to make a quick homemade tomato sauce you have to reverse the process. Peel and chop all the ingredients raw, except the oil. Pass them through the mixer altogether and then let them fry with the oil in a frying pan for 10 minutes. You will have a rich and quick tomato sauce for pasta, pizza or whatever you want. This recipe will give you 1 liter of tomato sauce.
If you are going to package the homemade tomato sauce, you should sterilize the jars before using them, for hygiene reasons. Packaging in small jars lasts longer as they cool earlier. Therefore, it is advisable not to use bottles with a capacity greater than 500 cc. Whenever you pack or keep a sauce (or any other food) it is advisable to put a label with the date of packaging to know how long it has been in the fridge.
You may like also to read https://whizowl.co.uk/