In the public mind, Alastair Campbell is largely associated with the Tony Blair Premiership, where he was thrust into the limelight as the Prime Minister's spokesperson and press secretary. It was during these tumultuous years that he earned his reputation as a tough and effective campaigner, but he was active in politics and journalism lonor/alastair-campbell/g before this.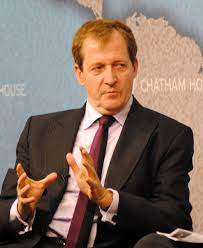 The early years.
Surprisingly, for someone known to regularly don a kilt and play the bagpipes, Alistair Campbell was born in the West Ridings of Yorkshire. The son of Scottish parents, his father was a veterinary surgeon from the island of Tiree, while his mother hailed from Ayrshire. Born in 1957, Alistair had two older brothers and later a younger sister. His early school life was spent at Bradford Grammar School and Leicester Boys Grammar School before attaining a place at Gonville and Caius College, Cambridge, where he studied Modern Languages.
After graduation, his early roles included teaching in the southern French city of Nice, training as a roulette dealer, and some busking with those bagpipes before finally settling on a course in journalism with the Mirror group of newspapers in 1982, where he eventually became chief political editor. Strangely, however, his first foray into published journalism was at Forum Magazine, where he wrote a column about sex. These days he writes a rather more mainstream column at www.theneweuropean.co.uk/contributor/alastair-campbell/.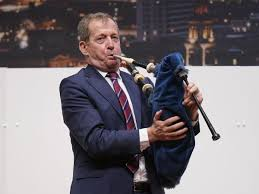 The Blair years.
After the tragic death of John Smith in 1994, Tony Blair succeeded him as Labour leader and asked Alistair Campbell to be his press secretary. At the time, Campbell was working at the short lived newspaper Today. Blair's project was to rebuild the Labour party after many years in opposition. It resulted in the party rebranding itself as New Labour. Much of the credit for this and their subsequent victory at the 1997 election can be attributed to Campbell. Those frenetic years no doubt took their toll on him and after helping New Labour to another election victory, Alistair Campbell resigned in 2003, citing a desire to spend more time with his family.
Post Government.
Alastair Campbell is still active in politics but he can afford to pick and choose his campaigns now. He still regularly writes articles and he can still be seen on occasion on TV giving his opinion about current events, but he is probably glad that he is no longer in the belly of the beast.